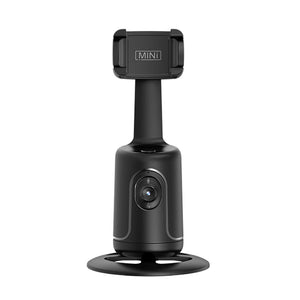 Have a question?
Never Miss a Moment With 360° AI Auto Tracking

If your are looking for a camera man alternative to follow you around seamlessly while getting the perfect shot and super smooth panning for your channel or vlog, this is it!
Keilini Auto Tracking Tripod can automatically recognize and track your face or body, 360° rotating and 180° flipping steadily with your movement.
No more begging and bribing friends to take your picture or film your video, no more keep adjusting your phone manually to find the right position...
Keilini Auto Tracking Tripod maximizes your smartphone camera's capability with 360 degrees face/body tracking, smart capture as well as easy switch from portrait to landscape.
Free your hands from video calls and live streaming now with a new Keilini Auto Tracking Tripod. Just attach your phone to it and allow it to automatically track you face and give you a new exciting experience you never had before.


Wherever You Go, You're The Focus All The Time
Becoming a content creator in 2022 has never been easier with Keilini Auto Tracking Tripod at your fingertips. Whether a YouTube documentarian recording daily life or an sports enthusiast who wants to record the action, they are all switching to this smart tripod for good reasons. 42,000 users can't be wrong.
It's a one-person show for many content creators, but with the 360-Degree Keilini Auto Tracking Tripod, you essentially get a phone mount and camera operator in one. This robotic gimbal is not just for social influencers, it's a solution for video chatting with family or conducting dynamic video conferences at work.
And more features to provide expanded shooting capabilities and enhance your final footage:
【AI Recognition Gesture Control】Adopts the AI chip algorithm to automatically recognize your face, gesture or shape and capture your every move fast
【Random Angle Live As You Wish】360° Face Tracking and 180° Easy Flip
【Smart Adjustable Lens】Easily Switch 2 Modes (Standing Shot/Sitting Shot)
【Universal Tripod Mount】The base is detachable, and it can be used with a 1/4 screw interface for easy connection to a tripod
【Easy to Use】With a built-in camera, it can track you intelligently, you don't need to download any APP
【Mini Body Portable Gimba】Great for Lectures, Sporting Events, Presentations, Group Photos, Adventure Shots, Instagram, Vlog. Large 1200mAh battery supports 5h working hours
QUESTIONS & ANSWERS
Have a Question?
Be the first to ask a question about this.
Ask a Question