Have a question?
This is the best garden art idea of 2022 that has gone viral across the world, literally.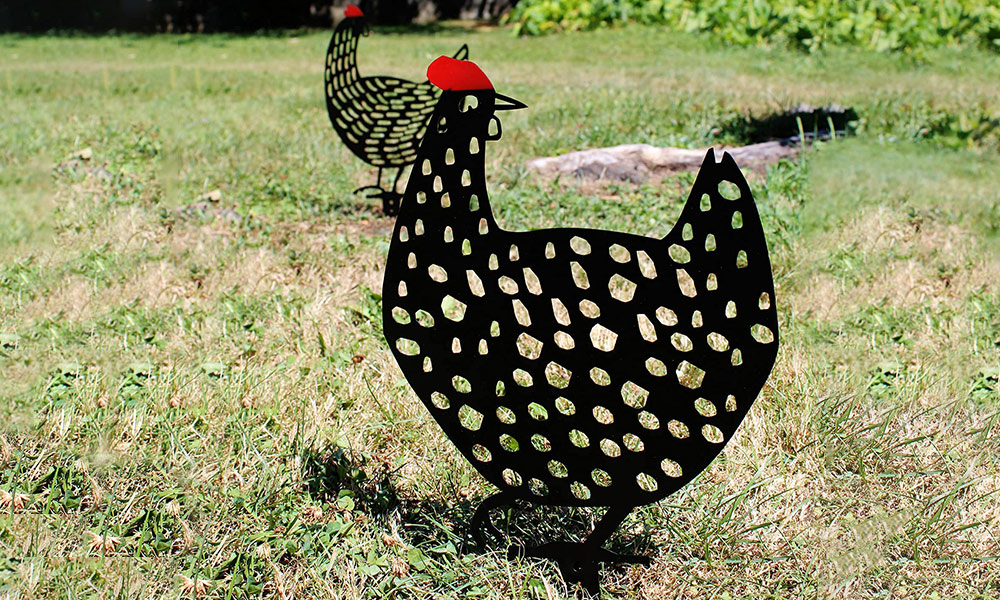 At first sight, I found these chicken garden sculptures in my friend's yard and thought they were alive! I thought if I buy some for my 75 years old mother (who lived on a farm for 40 years) as her birthday gift, that would be pretty wonderful.
My mom was shocked and her tears goes down, when she saw these cute & funny chicken. They are really even nicer than anticipated. None of other gift seems to be more versatile than this one. This whimsical garden chicken stake makes her smile every time she looks out at them in the yard.
That experience made me realize that not the most expensive gift is the best, but what makes she love the things surrounding her is a better way to express my love.
Garden decorations - may be the most natural solution to add depth and meaning to your lives and considered as an extension of the home living space where one can recline, relax and unwind themselves from the daily exhaustion.
Traditional flower decorations are stereotyped. People aren't fancying them anymore and they've become unpopular...
Now the new popular trend of the garden decoration has arrived! – An artist-crafted, Keilini chicken garden sculpture that breaks the rules.
Nobody knows who did it first, but soon thousands of people started adding one and sharing with their neighbors. They uploaded them to social media and soon EVERYONE wanted one in their garden!
What are we talking about?
It's the keilini Metal Chicken Garden Sculpture – the coolest and most popular garden decoration trend now.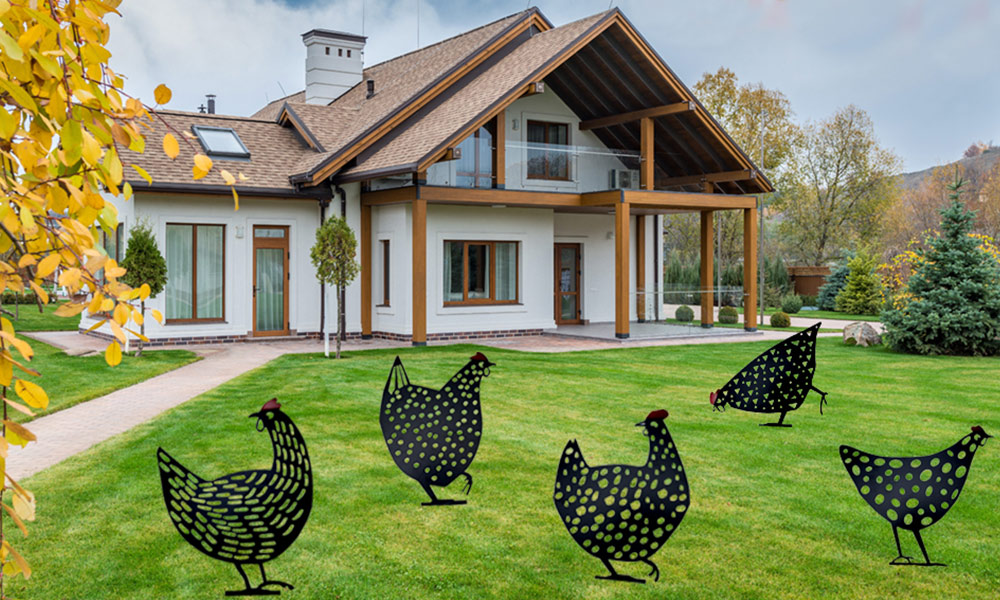 This Charming 3D Design Chicken Sculpture is originated from the idea of an American modern artist, Anthony Howe, whose sculptures attract our senses in a powerful way as soon as we lay eyes on them.
If you are in front of it, you will absolutely feel surprised.
As these lifelike hens with the feather, eye, and beak details, they bring a unique sense of design to your courtyard, liven up your garden and add some whimsical charm.
There are spikes attached that poke them into the ground. Just some sort of hollowed design for the eyes which make the silhouettes look like real chicken in the sunlight.
The simple silhouettes & brilliant design show off its charming side and give a lasting impression to its admirers and make colorful and creative art pieces come alive.
If you want to spice up an otherwise boring or normal landscape, look no further! Keilini Metal Chicken Garden Sculpture  is definitely the one you want.  
Feel the rhythm of nature through chicken decor and see how art interacts with the sunshine in this one of a kind garden decoration!
How Does it Work?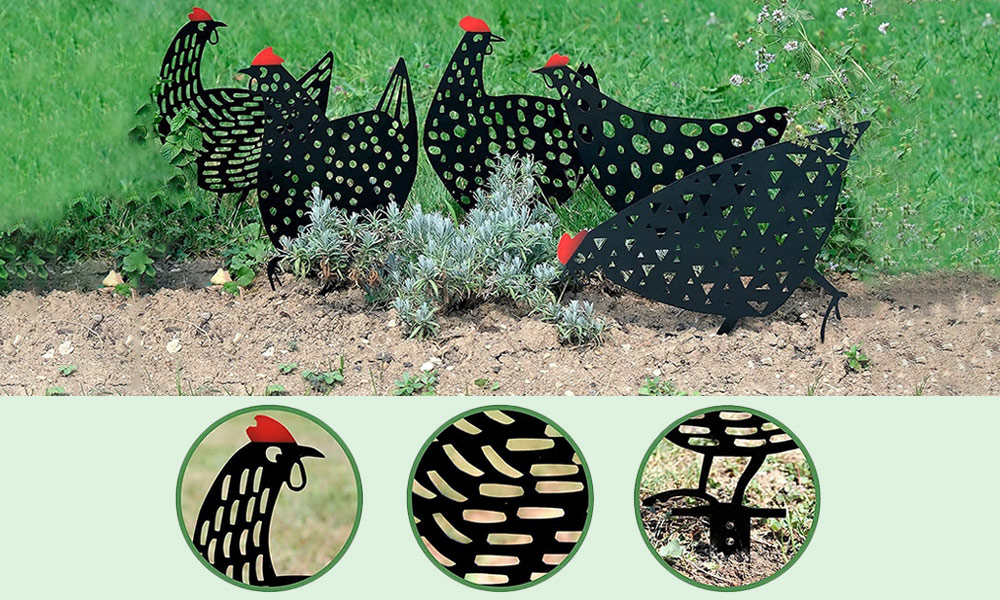 Unlike traditional garden decor comes with a simple & colorful animals, the Keilini features a relax and happy atmosphere of your living spaces with its vivid design which makes everyone smile.
If you want to make your garden look lively and interesting? Nothing makes your garden more interesting than a bunch of chicken.
The irregular hollowed patterns and classic black painted colors make them look more exotic and mysterious than the real chicken.
Each chicken is made of fine steel plate painted black, except for the crest which is painted in red. Not only will you like this product, your neighbors will love it too!
Package comes with stakes for easy installation, all you need to do are joint the chicken and stake together and place them on the ground in your garden anywhere you want.
5PCS realistic chicken adorn the courtyard, just look like a real chicken just standing there, makes your garden more vivid.
What makes people crazy about it?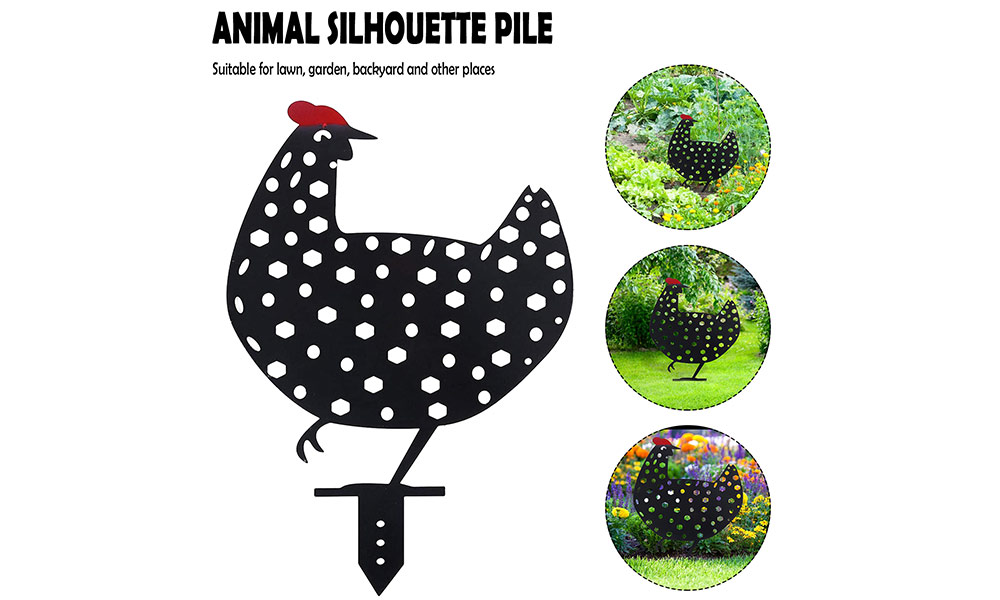 ✅ Ideal Gift
They are very durable and just adorable! The Chicken Metal Yard Decoration is individual packed to prevent from scratch. As an ideal garden decoration gift set, it is perfect and unique for those who love gardening, decorating any place. Will definitely attract everyone's attention!
✅ Weather Resistant
Each metal chicken stake has weatherproof, waterproof and anti-rust powder coating for outdoor use. Ensuring you can use them even if it snows and rains without any worry.
✅ Super Easy to Install
No additional wiring! This gardening decoration is easy to assemble with the instructions - simply position it in a sunny location with the metal stake and enjoy! Do NOT forget tear off the protective transparent film on the surface.
✅ Save Energy and Environmental-Friendly
It is made of 100% steel material without any plastic pollution.
✅ DIY Design
Painting the color what you want, making the decor be unique.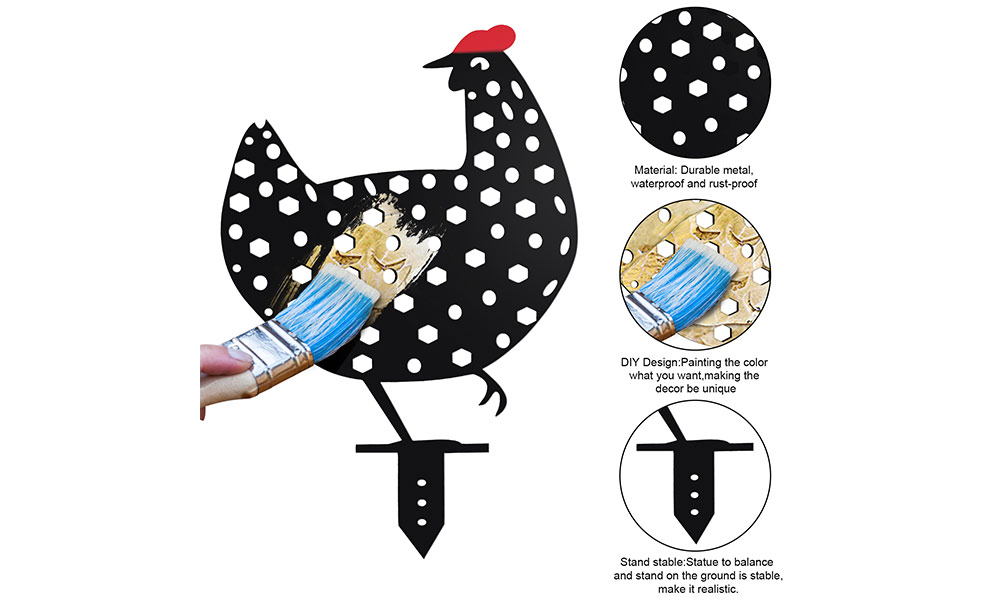 Some Questions We've Had
Q: Live in the southwest, will the paint colors stand up to excessive summer heat 100+ degrees without bubbling or pealing off?
I live in the NW and have had 2 summers with it and colors are still great. 1st year summer was 100 and second summer was 98.
Q: All parts solid metal?
Yes, they are all made of steel, anti-rust steel. It is very sturdy.
Q: How do you secure it so it doesn't fall over the wind?
The bottom post has a steel spiked feet that you stand on to drive them into the ground. Very firm and stable!
Q: What's the size of it?
This piece of chicken yard decoration measures 9.8-11.8 inches in diameter when staked, making it suitable for anywhere in your yard/garden.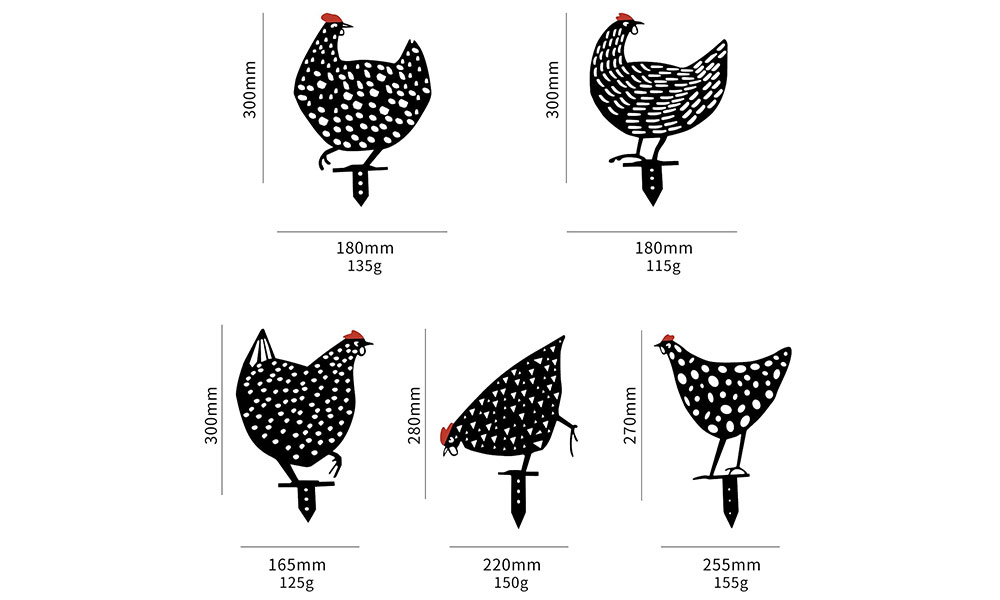 Q: Is it safe for children?
Chickens have sharp parts which can cause injuries if not handled carefully and responsibly. Please pay attention to the sharpest parts like - beak, tail, legs, and bottom mount.
QUESTIONS & ANSWERS
Have a Question?
Be the first to ask a question about this.
Ask a Question